In The News
Sporting Classics essay published
In Sporting Classics magazine, Eric tells the story behind his painting "Traditions of the Hunt." Look for his essay "Thirty Superior Seasons" in the September/October 2009 edition.
Wildlife Art
article
In its January/February 2006 conservation issue, Wildlife Art magazine named Eric its "Up and Coming Artist" in the article "Nature Bonds Father and Son" by Fran Howard.
Television Appearance
Lifetouch Media Productions produced and episode of Out 'N About With R.J. Fritz titled The Art of Fatherhood featuring Eric Bjorlin and his artwork.  The program aired on WCCO-TV (CBS) and affiliated stations in October 2005.  The broadcast area covered Minnesota statewide and portions of neighboring states.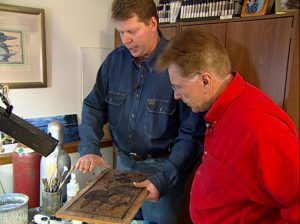 Magazine Promotional
In its November/December 2001 Art Collectors issue,
Wildlife Art
magazine recognized Eric's artwork, reproducing his Timber Wolf painting, "
Unseen Presence"
in a full-page advertisement promoting the magazine's subscriptions.