In The News
7th Nationwide Juried Catholic Arts Competition
Eric's painting Return was selected for the 7th Nationwide Juried Catholic Arts Competition at St. Vincent Gallery  by juror Dr. Elizabeth Lev Ph. D. The Gallery is located at St Vincent College in Latrobe, PA. Opening Reception is Sunday October 28.  The exhibition runs through December 2, 2018.
Holy Cards for The Seven Sisters Apostolate
Eric's painting Presence has been reproduced on the front of 10,000 holy cards for the Seven Sisters Apostolate.  The cards were blessed by Archbishop Bernard A. Hebda at the Seven Sisters annual meeting on November 3, 2018 and have been distributed across America and beyond including Alaska, Hawaii, Mexico, Venezuela, Spain, Italy, the United Kingdom, Australia, India, the Philippines, and into Africa. On the back of the cards, there is a prayer written by St. Faustina Kowalska (Diary 1052).  Eric considers it an honor to contribute to the worthy objective of increasing prayers for our priests.
Sporting Classics essay published
In Sporting Classics magazine, Eric tells the story behind his painting "Traditions of the Hunt." Look for his essay "Thirty Superior Seasons" in the September/October 2009 edition.
Wildlife Art
magazine
article
In its January/February 2006 conservation issue, Wildlife Art magazine named Eric its "Up and Coming Artist" in the article "Nature Bonds Father and Son" by Fran Howard.
Artists for the New Century
Exhibition
The Bennington Center for the Arts in Bennington, Vermont, has included Eric's work in its exhibition "Artists for the New Century," which runs from August 5 to September 10, 2006. This show features "an important group of artists … who invariably produce excellent work, technically and artistically."
Television Appearance
Lifetouch Media Productions produced and episode of Out 'N About With R.J. Fritz titled 'The Art of Fatherhood" featuring Eric Bjorlin and his artwork.  The program aired on WCCO-TV (CBS) and affiliated stations in October 2005.  The broadcast area covered Minnesota statewide and portions of neighboring states.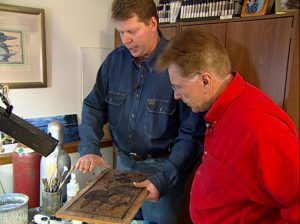 Wildlife Art Magazine Promotional
In its November/December 2001 Art Collectors issue,
Wildlife Art
magazine recognized Eric's artwork, reproducing his Timber Wolf painting, "Unseen Presence" in a full-page advertisement promoting the magazine's subscriptions.
Wildlife Art Magazine Article
In its March/April 1999 issue Wildlife Art magazine selected Eric's artwork for the article, "Minnesota: There's Something in the Air"  by Kay Johnson.